---
Standard Humbuckers
---
Humbuckers were first developed in the 1950's. At that time, hum was a real problem as much of the electrical equipment available was poorly grounded.

 

Since then, a huge variety of humbuckers have been designed, keeping pace with the demand for performance and tone required by new musical styles and equipment, especially amplifiers.

 

Distortion humbuckers were developed to drive low gain vintage amps further into overdrive.

 

The sometimes accidental coil imbalances of vintage humbuckers are are today used deliberately to produce raunchier (or slightly sleazy) variations of the original designs.
All standard Gemini humbuckers have single coil style sounds as well. The difference with Gemini pickups is that the single coil sounds were designed to sound as good as the full sound.

For some great alternatives, take a look at our humbucker sized P90's on the P90 & Mini HB page or mini humbuckers in full sized HB package.


Most models are also available on request in double standard polepiece, double slug, with matt black hex polepieces or matt black large head poles.
---
Vintage PAF Style Humbuckers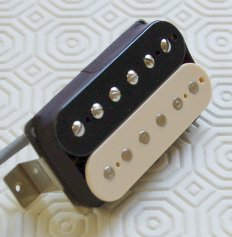 During the PAF era of Gibson humbuckers, both the grade of Alnico used and the windings varied, leading to a wide range of subtle variations in sound.



We've selected six of the finest flavours and added some modern appointments to help them meet the greater demands of modern guitarists.
---
Phoenix
The Phoenix is a rich, creamy vintage humbucker reminiscent of the early 60's Pafs. Sweet and warm, the Phoenix provides beautiful, soulful sounds all the time. The bridge is wound about 10% hotter to provide perfect balance. The tapped sound provides more clarity but combined with a unique warmth and smoothness.

Wire AWG 42, Alnico V magnet, 3 conductor wiring.
DC Resistance: Neck 7.5k (5.2k tapped), Bridge 8.4k (5.7k tapped).
---
Pegasus
Unbalanced coils were commoner on Pafs before 61 although the amount of imbalance was fairly random. The Pegasus is a raw vintage humbucker that wants to rock. It has an aggressive, edgy sound that is slightly darker, ideal for blues and classic rock to old metal. The ACT tapped sound is is warmer, smoother and fatter than a conventional centre tap.
Wire AWG 42, Alnico V magnet, 3 conductor wiring.
DC Resistance: Neck 7.8k (5.5k tapped), Bridge 8.5k (5.8k tapped).

 
---
Nightwolf
It's well after midnight, the stage is dark. Out front, a sea of faces are waiting for you to perform. It's time for the Nightwolf. Some pickups are made for guitars, some pickups are made for studios. The Nightwolf is made for guitarists and for the stage. While the bridge pickup would be typical of some of the best 50's Pafs, the neck is underwound, maintaining top end clarity that could otherwise be lost with a softer magnet. It has the soft focus and creamy mids typical of pickups with alnico II magnets. Dig in hard and it produces that clean but dirty sound that typifies Chicago blues and southern rock. Turn up the gain and it's a Texas blues and classic rock pickup without peer. The Nightwolf is ready for you, but are you ready for the Nightwolf.
Wire AWG 42, Alnico II magnet, 3 conductor wiring.
DC Resistance: Neck 7.4k (5.0k tapped), Bridge 7.9k (5.3k tapped).

 
---
Barghest
A vintage alnico II humbucker with unbalanced coils. Same great sensitivity as the Nightwolf with a rockier edge. Still a great blues pickup but the extra mids and slightly edgy feel make rock the prime target for this pickup. The Barghest represents my personal favourite Paf style tones. Soft magnet with moderate winding and unbalanced coils.
Wire AWG 42, Alnico II magnet, 3 conductor wiring
DC Resistance Neck 7.7k (5.3k tapped), Bridge 8.2k (5.6k tapped).

 
---
Delta Express
The Delta Express provides a tonal balance that can only really be achieved with AL IV. The treble and bass are is big and rounded, the mids are scooped with the emphasis on the lower registers. These pickups don't compress or saturate as fast as other PAF types. They do remain musical over a wide gain range. The neck pickup is warm but clear while the bridge has hotter unbalanced coils to give you the extra drive needed and a touch more dirt.
Wire AWG 42, Alnico IV magnet, 3 conductor wiring
DC Resistance Neck 7.45k (5.25k tapped), Bridge 8.3k (5.6k tapped)

 
---
Dawn Angel
The Dawn Angel offers sweet, transparent cleans with unrivalled clarity. This is a perfect choice for jazz players and anyone else who focuses more on clean tone. The highs are warm, the lows are firm but not aggressive, the mids are slightly muted and perfectly balanced.
The relatively low output means that they aren't the best choice for driving a vintage amp into meltdown but turning the gain up a little on a modern amp lets the beautifully balanced tone shine through with as much dirt as you want.
Wire AWG 42, Alnico III magnet, 3 conductor wiring
DC Resistance Neck 7.5k (5.0k tapped), Bridge 8.2k (5.4k tapped)

 
---
Classic Medium Output Humbuckers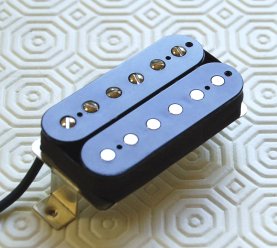 Almost all medium output humbuckers have a specific tonal objective.


Sometimes this is aimed at performance factors and sometimes at obtaining a particular sound.


Whichever it is, they need to be considered individually.
 
---
Vampire
The Vampire is designed to provide outstanding tone across the entire gain range from clean to filth. The basic tone is similar to a hot Paf, with subtly reinforced mids.
The Vampire has an ideal mix of smoothness, power and bite. The detailed top end provides clarity at all gain levels. The Vampire is the most open and warmest of the three high clarity humbuckers. The ACT tapped sounds of the Vampires are like overwound strat pickups and match perfectly with Chimeras in HSH or HSS sets.
If I was forced to choose a single set of pickups to cover all styles, I'd choose Vampires.
Wire SWG 46, Alnico V magnet, 3 conductor wiring.
DC Resistance: Neck 8.9k (6.1k tapped), Bridge 10.4k (6.8k tapped).

 
---
Vampyra


The Vampyra offers bright cutting tone with extra highs for maximum clarity. Combined with a tightly focussed bass, you can use a Vampyra with any amount of gain from pristine to fully saturated without fear of being lost in the mix.

It's a shredders dream but it's not just for shredders. Actually, it's great fror almost anythying apart from heavy styles needing a big bottom end.

Wire AWG 43, Alnico V magnet, 3 conductor wiring

DC Resistance Neck 8.1k (5.4k tapped), Bridge 9.7k (6.3k tapped)

 
---
Vampire Lord
The Vampire Lord bridge pickup has the maximum power available with good clarity for clean playing. The neck pickup is softer, with that bright top, warm bottom feel to it.
Vampire lords are slightly less vintage sounding than Vampires with greater precision and focus. The tapped sounds are brighter than the Vampires but not as loud.
Vampre Lods are particularly suited to the needs of shredders, fusion players and prog rockers althoug they're in no way restricted to these genres.
Wire AWG 43, Alnico V magnet, 3 conductor wiring.
DC Resistance: Neck 8.7k (6.0k tapped), Bridge 12.2k (7.4k tapped).
 
---
Leviathan
The Leviathan is really only designed for one guitar, the Les Paul. You can put them in other guitars and they'll work beautifully but they'll sound like a Les Paul.
It's a classic rocking pickup. The neck is fruity and creamy, retaining enough clarity for good clean tone but fat enough for great overdrives. The bridge pickup offers extra hot vintage sounds.
These have a strong upper mid emphasis that combined with a Marshall is the only way to get those baseball bat in the face tones.

Wire AWG 42 (Neck), AWG 43 (Bridge), Alnico V magnet, 3 conductor wiring.
DC Resistance: Neck 8.0k (4.9k tapped), Bridge 13.5k (8.0k tapped).
---
Swamp Witch
The Swamp Witch is a high impedance pickup with medium output. It has very strong mids, good highs and a fairly tight bass. This is the fattest of the fat.
With an Alnico II magnet, the Swamp Witch has a definite southern feel played clean, always hinting at a dirty sound. Played with distortion, it seems to tighten up, producing overdrives with a well defined sound, excellent single note definition, rich harmonics and smooth sustain. Due to the high impedance coils, it works well at any gain level.
Wire AWG 46, Alnico II magnet, 3 conductor wiring.
DC Resistance: Neck 19.8k (9.85k tapped), Bridge 24.7k (12.35k tapped).

 
---
Mountain King



This is one of smoothest operators around. Rich creamy (almost vintage like) humbucker sounds but with more girth and a bit less presence.

When you hit the loud button the difference becomes much more obvious. Even amps with limited gain will saturate much more quickly.

The Mountain King takes hot rodded Paf tone several steps further than anything else. (Except perhaps the Swamp Witch for those of you who prefer fatter tone).
Wire AWG 46, Alnico V magnet, 3 conductor wiring.
DC Resistance: Neck 19.3k (9.65k tapped), Bridge 22.4k (11.2k tapped).

 
---
High Output Humbuckers
In the seventies and eighties guitarists often wanted more gain than their amplifiers could deliver. Distortion humbuckers provided more output and drove their amps harder to help them achieve this.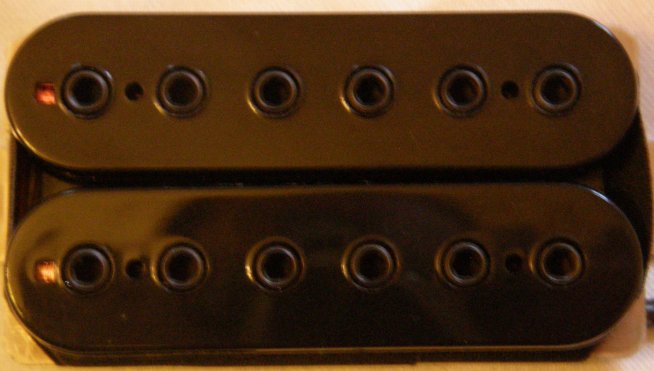 These pickups are still made for two reasons. Some players prefer hard driven vintage amp tone to modern amp tone. Others choose high output humbuckers for their tonal character rather than the increased volume.
The tonal character varies considerably although virtually all high output humbuckers have less presence and more mids than Paf style humbuckers.
---
Gryphon
The Gryphon is a pickup that gets right in your face. Muscular and powerful without becoming ugly, and still able to take wing when you need it to. Played clean, it has a warm, rounded sound that still retains enough highs to remind you that it's not an ohm monster. Played dirty, it's huge tight bass can churn out low down riffs with the best of them. Move up the register a couple of octaves on ultra gain and discover fat stable tones that let your playing shine through. Tap a Gryphon and get a big, muscular single coil sound.
Wire SWG 46, Alnico V magnet, 3 conductor wiring.
DC Resistance: Neck 10.7k (7.2k tapped), Bridge 11.9k (8.2k tapped).

 
---
Basilisk
Similar to the Gryphon but with a coil imbalance to add extra thickness to the mids without becoming bottom heavy.
The Basilisk is aggressive, loud and nasty. No apologies and no compromises, just a health warning. This pickup is not suitable for persons of a nervous disposition. It doesn't really do clean and it doesn't care. The Basilisk is the best producer of musical feedback I've ever heard.
Wire SWG 46, Alnico V magnet, 3 conductor wiring.
DC Resistance: Neck 11.0k (7.9k tapped), Bridge 12.4k (8.3k tapped).

 
---
Storm Lord
A blade humbucker driven by multiple ceramic magnets. The Storm Lord is beautifully balanced with a wide range of applications. The combination of multiple small ceramic magnets and carbon steel blades provides more warmth and mid range detail than most ceramic magnet humbuckers. Output is somewhat lower than super distortion types but still high enough for almost any purpose.
The tall, narrow windings combine with the ceramic magnets to provide particularly strat like tapped tones.
N.B. Available in white or black with nickel or black blades. In the shop this is is
Black = Black with black blades
White = White with nickel blades
Zebra = Black with nickel blades
Reverse Zebra = White with black blades
When purchased in sets, other pickups will be changed from cream to white to match.
Wire AWG 43 (Neck), AWG 44 (Bridge), Multiple Ceramic Magnets, 3 conductor wiring
DC Resistance: Neck 12.0k (6.0k), Bridge 16.5k (8.2k)

 
---
War Lord
The War Lord is a low impedance, high output, high performance humbucker with heavy wire and an Alnico VIII magnet at its heart.
The highs are fat, the lows are crisp. The mids are very aggressive with the balance towards the lower mids so that there is none of the harshness that can occur with excessive upper mids.
However much distortion you have, the War Lords can take it and then demand more. A certain cure for thin sounding locking tremolo equipped rock guitars.
Wire SWG 46, Alnico VIII magnet, 3 conductor wiring
DC Resistance: Neck 10.6k (6.5k), Bridge 11.5k (7.1k)

 
---
Behemoth
The Behemoth is extremely loud but with a distinctly vintage voice. It is designed to provide the largest possible signal (more than double the output of a standard PAF type) without having the thick, nasal tones that come from many hot wound pickups. It is strong in the upper mid/lower treble area and has a huge bass. This is not necessarily just a pickup for ultra gain, but much more for driving the power stage of a vintage amp into meltdown.
Wire SWG 46, Large Ceramic (5mm) magnet, 3 conductor wiring.
DC Resistance: Neck 11.4k (5.7k tapped), Bridge 12.7k (6.35k tapped).
 
NB Behemoths are only available open as they are around 3mm taller than normal and covers don't fit correctly.
---
Titan
The Titan is even louder than the Behemoth, with well balanced tone. This is a surprisingly versatile pickup.
It may be outstanding for metal but it's great for a lot more than that. It has plenty of top end with the neck pickup particularly sweet sounding. The bridge pickup can be used just as effectively for gentle pop tones as for hard rock and metal.
Wire AWG 44, Large Ceramic (5mm) magnet, 3 conductor wiring.
DC Resistance: Neck 14.5k (7.3k tapped), Bridge 17.9k (8.9k tapped).
 
NB Titans are only available open as they are around 3mm taller than normal and covers don't fit correctly.