---
P-90's
---
The P90 format provides opportunities for some great variations as well as some very traditional tone. Our Unicorn and Werewolf designs provide two of the most traditional flavours while our Retro-90's and the Wraith offer some very distinct alternatives.
---
Humbucker Sized P90's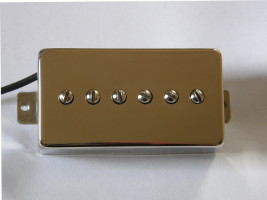 There have been attempts to make humbucker sized P90's for around 30 years. The technical issues involved have resulted in some killer pickups but few, if any, that really sounded like a P90.
Thanks to a very simple idea (that it took me 3 years to think of) Gemini Pickups now has humbucker sized P90's available that sound exactly how they should. The key problem is that a P90 coil extends up to 12.7mm from the core and is shallow. Fitting into a humbucker format, there is only 7mm available at the ends. Gemini P90H's use a butterfly design bobbin. Under the strings, the coil is the traditional shallow, wide P90 coil. At the ends, the coil exopands vertically by an additional 3.5mm, allowing a traditional P90 wind in a humbucker format with the taller section restricted to an area outside the strings where it doesn't matter.
Almost all the others use either finer wire or a taller coil, either of which makes a big difference to the tone.
These are not vaguely like P90's, they're the real deal.
If you're not convinced, listen to
this
. It's a cut and paste of pieces from the sound samples for the Unicorn neck pickup in soapbar and humbucker sized formats. You should be able to spot some of the joins but can you tell which is which?
---
N.B. Epiphone Wildkat and Casino.
The P90's in Epiphone Wildkats, Casinos and probably Sorrentos as well are slightly different in dimensions from other Dog Ear P90's. Most replacement pickups, including Gemini's can be fitted in the bridge position but not in the neck position. The neck pickup has a deeper baseplate recess and narrower string spacing. A standard P90 will not fit and would be much too close to the strings, being 3.175mm (1/8") higher. To retain the covers and make pickups that fit, we provide a rewind/rebuild service for these pickups. Because of the reduced capacity of the neck pickup bobbin, we cannot fit a Seraphim winding on one of these. However, we do have a modified Seraphim Special design that will fit and is similar but slightly thicker toned. Please contact us for details.  
---
Unicorn

 

A classic P-90, with traditional P-90 sound. P-90's have been making some of the best sounds around for over 50 years.

The Unicorn is vintage wound but at the fatter end of the vintage range. Very simple, very effective and very versatile.

Unicorn bridge and neck units are wound to be hum-cancelling in the middle position when combined with each other or the tapped single coil sounds of Gemini humbuckers.

Available in traditional P90, Jazzmaster and humbucker formats

Wire AWG 42, Alnico II magnets

Bridge Pickup 7.9k (5.3k tapped, P90 format only)

Neck Pickup 7.6k (5.1k tapped, P90 format only)

A slightly more modern P90. Where the Unicorn growls, this one howls and screams.

A P-90, with a retro Charlie Christian style sound and a switchable vintage P90 sound

Seraphim bridge and neck units are wound to be hum-cancelling in the middle position when combined with each other or the tapped single coil sounds of Gemini humbuckers.

Wire AWG 40/SWG 46 (Neck), AWG 41/SWG 46 (Bridge), Alnico II magnets, 3 conductor wiring

A P-90, with a 50's / 60's style jangly beatbacker sound and a switchable hot P90 sound

Cherubim bridge and neck units are wound to be hum-cancelling in the middle position when combined with each other or the tapped single coil sounds of Gemini humbuckers.

Available as soapbar or dogear