---
Mini Humbuckers
---
Firebird style mini humbuckers are a wonderful alternative pickup, providing enough clarity to satisfy most single coil addicts but combined with humbucker performance. The Gemini models take two different approaches to this, with the primary difference being in the mid structure rather than in brightness.

Deluxe style mini humbuckers are constructed like conventional humbuckers with a single horizontal bar magnet. Traditionally, they use a blade in one coil and screw polepieces in the other. Our Deluxe style mini humbucker models use the same principal but with carbon steel blades in both coils, thus retaining the clean looks of the Satyr and Manticore and allowing mixing of the two designs as sets.

It's often said that mini humbuckers are somewhere between single coils and full sized humbuckers in sound. Firebird style pickups are much nearer the single coil end of this scale and deluxe style pickups much nearer to full sized humbuckers.

We make

Firebird and Deluxe style mini humbuckers

in standard mini humbucker and full humbucker sized formats. They use the same bobbins, magnets and blades but are mounted on a full sized humbucker baseplate with full sized cover. Our

Johnny Smith style mini humbuckers

are available with neck bracket or pickguard mounting.

Our mini humbuckers are now also available to fit Rickenbackers including surround and baseplate. See the Rickenbacker shop page top order.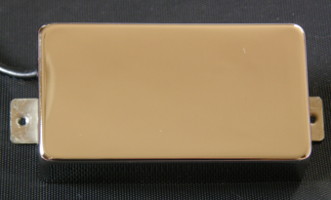 Starting for 2014, we have added coil taps to all our mini humbuckers except the Johnny Smith style Vampette. Just like most of our full sized humbuckers, they are offset to ensure a tapped sound that is full and firm.

N.B. Gibson 495R & 495T

Some Gibson Firebirds have the 495R and 495T mini humbuckers installed. These are a new design from Gibson. They use ceramic magnets and coils with very fine wire and lots of turns. They are much hotter and louder than the traditional Firebird pickups. If you try to mix them with any of my pickups (and any other Firebird pickups I know of), you will have volume balance problems. I won't be making any matching pickups. The specs are simply so extreme that it's impossible o mae matching pickups that sound significantly different.
---

Manticore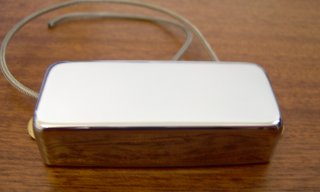 The Manticore offers all the sweetness of a standard vintage mini humbucker but with a slightly meatier tone and improved definition. It has more than enough output thanks to a pair of Alnico V blade magnets and hotter windings. Firebird style mini humbuckers have a unique sound, not only are they bright but they are more focused than other pickups. The manticore has a strong attack, giving it that urgency that was such a big part of the british sounds of the 60's and 70's.

Wire SWG 46, Alnico V magnets, 3 conductor wiring.

DC Resistance: Neck 7.1k (4.6k), Bridge 8.2k (5.4k).

 
---
Satyr
The Satyr is a modern take on the Firebird mini humbucker. It still has the same Alnico V blade magnets but it uses a fine wire to produce a pickup that is not only bright but has very strong focused mids and a tight bass. It has an overall feel of bright top, warm bottom that many players love. This allows it to be used at high gain settings without sacrificing clarity but still achieving a fully saturated sound. Note to note definition is exceptional and the harmonics are a real joy.
Wire AWG 44, Alnico V magnets, 3 conductor wiring.

DC Resistance: Neck 9.7k (6.4k), Bridge 10.5k (6.8k).
---
Qilin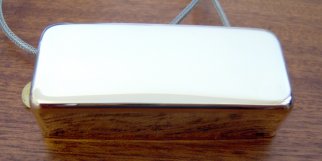 The Qilin has a single Alnico II bar magnet and a pair of 3mm carbon steel blades through the coils. The neck pickup reproduces the sounds of a vintage deluxe mini humbucker with just a small increase in output and improvements in clarity and definition. The bridge pickup is full of hot vintage tone, bright and brash. Like all Alnico II humbuckers, the Qilin is very responsive to playing dynamics. If you're looking for an expressive pickup for blues and vintage rock, the Qilin really hits the mark.

Wire AWG 42 (Neck), AWG 43 (bridge), Alnico II magnet, 3 conductor wiring.

DC Resistance: Neck 6.4k (4.5k), Bridge 9.4k (6.2k).
   
---
Midnight Special
The Midnight Special offers an alternate vintage sound to the Qilin with different windings and an Alnico IV magnet. The result is a very open voiced pickup, bright and punchy with well rounded bass and excellent articulation. It doesn't saturate and compress quickly overdriven but retains the great articulation. If you want an old school clean but dirty sound typical of the late 60's and early 70's, the Midnight Special is ideal.
Wire SWG 46, Alnico IV magnet, 3 conductor wiring.
DC Resistance: Neck 7.3k (4.9k), Bridge 7.9k (5.4k).    
---
Vampire Queen


The Vampire Queen is an extremely versatile mini humbucker. It has good clarity and balance combined with a tight bass. This results in a neck pickup that sounds very much like a slimline PAF and a bridge pickup that produces the mini humbucker equivalent of the baseball bat in the face sound, so long associated with the best Les Pauls. The balanced tones make the Vampire Queen ideal for a wide range of styles from pop and reggae through prog rock and fusion to hard rock. If you want a mini humbucker that can turn from nice to nasty with the flick of an overdrive switch, this is the one.
 

Wire AWG 43, Alnico V magnet, 3 conductor wiring.


DC Resistance: Neck 8.6k (5.9k), Bridge 10.6k (6.8k).
   
---
Mountain Queen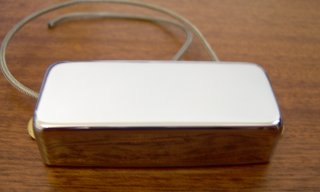 The Mountain Queen is constructed like the Qilin with carbon steel blades and a single bar magnet, but in this case an Alnico V. The neck pickup has a typical PAF style winding but using slightly finer wire. The result is a pickup that replaces brashness with sweetness and aggression with soul, a beautiful pickup for almost any style from jazz to rock. The bridge pickup is hot wound with extra fine wire to produce thick, rich tones with incredible harmonics way beyond anything normally associated with mini humbuckers. The Mountain Queen bridge unit is a rock machine par excellence.

Wire SWG 46 (Neck), AWG 44 (bridge), Alnico V magnet, 3 conductor wiring.

DC Resistance: Neck 8.23k (5.5k), Bridge 14.1k (8.8k).
   
---

Firedrake

The Firedrake takes advantage of Alnico VIII to produce a high output mini humbucker that is still sweet. The neck pickup is warm and dark while the bridge pickup is as aggressive as you could want. These are not for the feint hearted but if you want to rock hard, they'll take you as far as you want to go.


Wire SWG 46 (Neck), AWG 44 (bridge), Alnico VIII magnet, 3 conductor wiring.

DC Resistance: Neck 13.2k (8.2k), Bridge 15.6k (9.7k).
   
---
Vampette (Johnny Smith style pickup)

The Vampette has a construction that is half way between a Firebird pickup and a deluxe mini humbucker. A Firebird AL V magnet as a blade in one bobbin, polepieces in the other and a plated steel baseplate as a magnetic conductor. This results in a pickup with good articulation and clarity, combined with the low profile for fitting to an unrouted hollowbody guitar.

The Vampette is wound using a fine (AWG 44) wire, more in the style of the IBZ GB Specials than the traditional Johnny Smith pickups. The Vampette offers an exceptional combination of

It is available with either a neck bracket or a LH / RH pickguard mount. The pickup has an overall height of 13.5mm, allowing it to be fitted to most hollow bodied jazz guitars without routing.

Wire AWG 44, Alnico V magnet, 2 conductor wiring.

DC Resistance: 11.0k

---